The Illinois Aviation Museum was established in 2004, and is currently housed in Hangar One at Bolingbrook's Clow International Airport. (Read its history.)
Location:
Illinois Aviation Museum at Bolingbrook
130 S. Clow International Parkway
Bolingbrook, IL 60490
Phone: 630-771-1937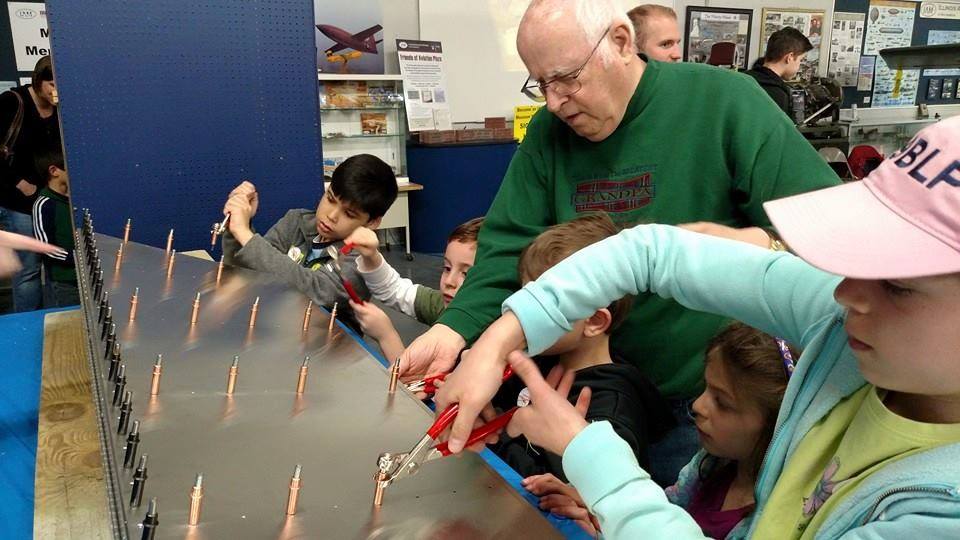 Mission Statement:
The Illinois Aviation Museum at Bolingbrook is committed to educate, preserve and promote aviation through community involvement.
Board of Directors
The Museum is governed by a volunteer board of 16 individuals dedicated to the Museum's mission to support education, technology, and community. The Governing Board of Directors serve three-year terms:
Executive Directors:
Larry Greenwich, President
Arzania (Zook) Williams, Vice-President
Bill Anderson, Secretary
Joe DePaulo, Treasurer
The Governing Board:
Marti Barton
Dan Christine
Bob Coon
Jim Gould
Jim Harvilchuk
Jerry Czupryn
Janet Lindsey
Billy Hearth
Ed Meyer
Chris O'Reilly
Don Appleton
The Advisory Board:
Bob Humphreys
Ray Jakubiak
Corey Soderquist
Jim Therrien
Wayne Brazinski
Location:
Illinois Aviation Museum at Bolingbrook
130 S. Clow International Parkway
Bolingbrook, IL 60490
Phone: 630-771-1937
Tours:
We currently offer guided tours Monday through Friday, primarily during daytime hours. We can make arrangements for other days and times, subject to availability.
Our collection includes two restored jet trainers and a Vietnam war era ground attack fighter outdoors.
Our indoor collection features a WWII jeep, a Vietnam war era Huey helicopter, and many other exhibits. Please allow about an hour for a guided tour.
There is a minimum age of eight years old for guided tours. Seniors and those with special needs are welcome.
There is a requested donation of $2.00 per person (including children, adults, and staff).
When requesting a guided tour, please provide the following information:
What is the name of your organization?
How many people in your group?
What are the ages of your group (minimum age is 8 years old)? Are there any with special
needs?
Please provide up to three (3) dates and times (morning, afternoon, evening) that you prefer.
We will do our best to accommodate you.
Please provide your email address and mobile phone number. No reservations will be made
without an email address and phone number.
The museum is also open to the public on Saturdays from 10:00 AM to 2:00 PM.
We look forward to sharing our collection with you!
How You Can Help:
Day-to-day operating funds and supporting services come from individual donors, local businesses, and organized fund raising events and programs.
How can you help? Get involved!
Become a member.
Volunteer.
Participate in our programs.
Make a donation.
Be a sponsor.
Become a part of what helps make Bolingbrook a vital, vibrant community.
We invite all those who have an interest in aviation, education, or community service to explore what we have to offer at the Illinois Aviation Museum at Bolingbrook's Clow International Airport. There are many opportunities to volunteer, programs to participate in, and ways to support this exciting new venture!
We ask for your generous financial support, and welcome your involvement as we work to make this organization grow.
If you wish to help, please contact us for further information.