Museum Hours: Saturdays 10:00 – 2:00 | Group tours are available by appointment.
Interested in a group tour? Email us for tour information
A Gallery Of Our Unique Collection
Each one of these planes is a piece of history. Each one comes with a story. A legacy. We couldn't be more proud to have had the opportunity to showcase each and every one of these plans for a time.
The Douglas A-4 Skyhawk is a single seat subsonic carrier-capable attack aircraft developed for the United States Navy and United States Marine Corps in the early 1950s. The delta winged, single turbojet engined Skyhawk was designed and produced by Douglas Aircraft Company, and later by McDonnell Douglas. It was originally designated A4D under the U.S. Navy's pre-1962 designation system. The Skyhawk is a relatively lightweight aircraft with a maximum takeoff weight of 24,500 pounds (11,100 kg) and has a top speed of more than 670 miles per hour (1,080 km/h). The aircraft's five hardpoints support a variety of missiles, bombs and other munitions. It was capable of carrying a bomb load equivalent to that of a World War II–era Boeing B-17 bomber, and could deliver nuclear weapons using a low-altitude bombing system and a "loft" delivery technique. Skyhawks played key roles in the Vietnam War, the Yom Kippur War, and the Falklands War. Sixty years after the aircraft's first flight in 1954, some of the 2,960 produced (through February 1979) remain in service with several air arms around the world.
T2
(On loan from National Museum of Naval Aviation)
The North American T-2 Buckeye was the United States Navy's intermediate training aircraft, intended to introduce U.S. Navy and U.S. Marine Corps student naval aviators and student naval flight officers to jets. It entered service in 1959, and was replaced by the McDonnell Douglas T-45 Goshawk in 2008.
The Buckeye was designed as a low-cost, multistage trainer. Its straight wing was similar to that used on the FJ-1 Fury and its cockpit controls were similar to the propeller-driven T-28C Trojan. The T-2's performance was between that of the U.S. Air Force's Cessna T-37 Tweet and the U.S. Navy's TA-4J Skyhawk. While it had no built-in armament, the T-2 could accommodate two .50-inch gun pods, 100 lb (45 kg) practice bombs, or 2.75-inch rockets beneath the wings.
The Model 18 was one of Beech Aircraft's most successful and longest running production designs, being in production from 1937 to 1969. This particular aircraft was one of the 5,250 models that were for the US Military, where they were used to train navigators, gunners, bombardiers, and pilots. This model was put into service in September of 1943, spent some time in Pensacola until 1945, was reconditioned in Corpus Christi in 1945, then went back to Pensacola for Naval Air Basic Training until 1946. It was then moved to a Naval Air Reserve Training Unit in Sand Diego. After that it was used at Naval Air Training Bases in Pensacola, Denver, Miami, Corpus Christi, and Wichita, until it received a complete remanufacture in 1953. It then went back to Corpus Christi, and was then relocated to Chincoteague where it was used for Utility Squadron 4 Tow targets for aircraft air-to-air & ship-to-air target practice. It was redesignated in 1962, and transferred to the Department of Agriculture in 1965, where it started a new career taking part in the Screwworm Eradication Program along with south Texas-Mexico border, and acquired by Lewis University in 1981. The Illinois Aviation Museum received it from Lewis University in 2020, when it was received the control surfaces were covered with fabric and very deteriorated, IAM covered them with sheet metal and reassembled, restored the cockpit, and polished the fuselage.
T33
(On loan from National Museum of Naval Aviation)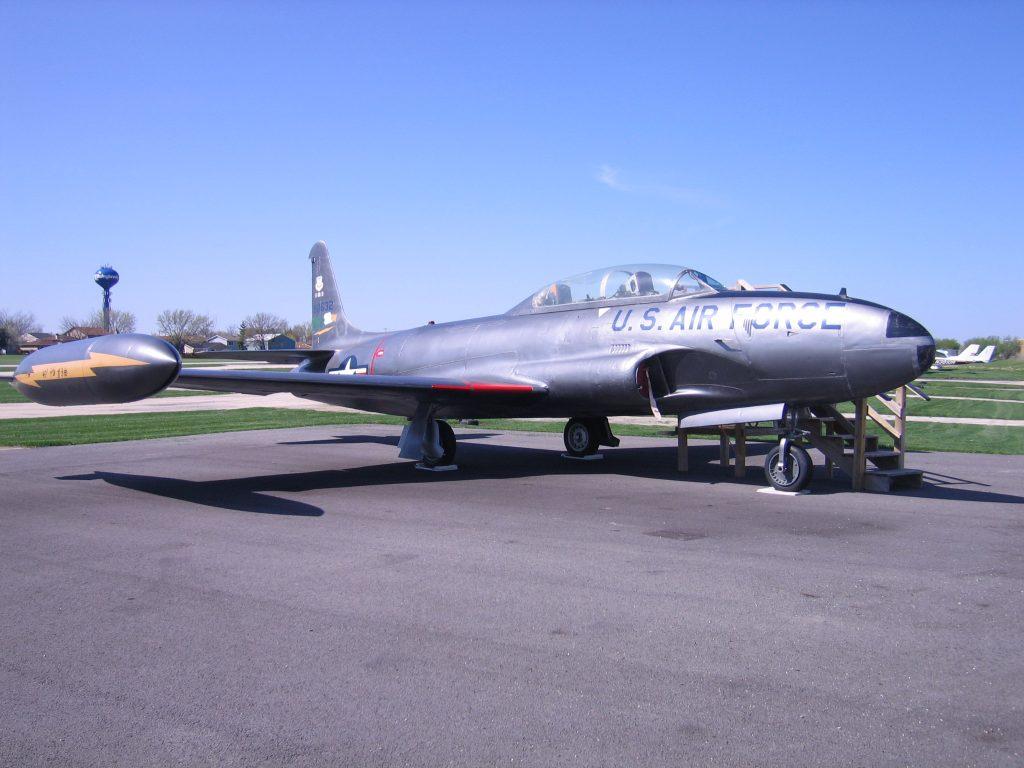 The two-place T-33 jet was designed for training pilots already qualified to fly propeller-driven aircraft, it was developed from the single-seat F-80 Fighter by lengthening the fuselage slightly more than 3 feel to accommodate a second cockpit.  Originally designated the TF-80C, the T-33 made its first flight in March 1948.  Production continued until August 1959 with 5,691 T-33's built.  In addition to its use as a trainer, the T-33 has been used for such tasks as crone director and target towing, and in some countries even as a combat aircraft.  The RT-33A version, reconnaissance aircraft produced primarily for use by foreign countries, had a camera installed in the nose and additional equipment in the rear cockpit.  The T-33 is one of the worlds best-known aircraft, having served with the Air Forces of more than 20 different countries for nearly 40 years, many are still in use throughout the world.
The Pitts S-1S was owned by Ray Luttrell and highly modified. It has clipped wings for a faster roll rate, modified ailerons, and the wings have 0 degrees dihedral and angle of incidence. It is powered by a 6 cylinder IO-360 Continental with three stage Nitrous Oxide boost. Stage three brings it to 3600 RPM, 360hp, and about 235 MPH. The engine compartment was so full there was not enough room for a starter and battery, so before it was flown it had to be hand propped. Millions enjoyed Rays unique airshow performances across America.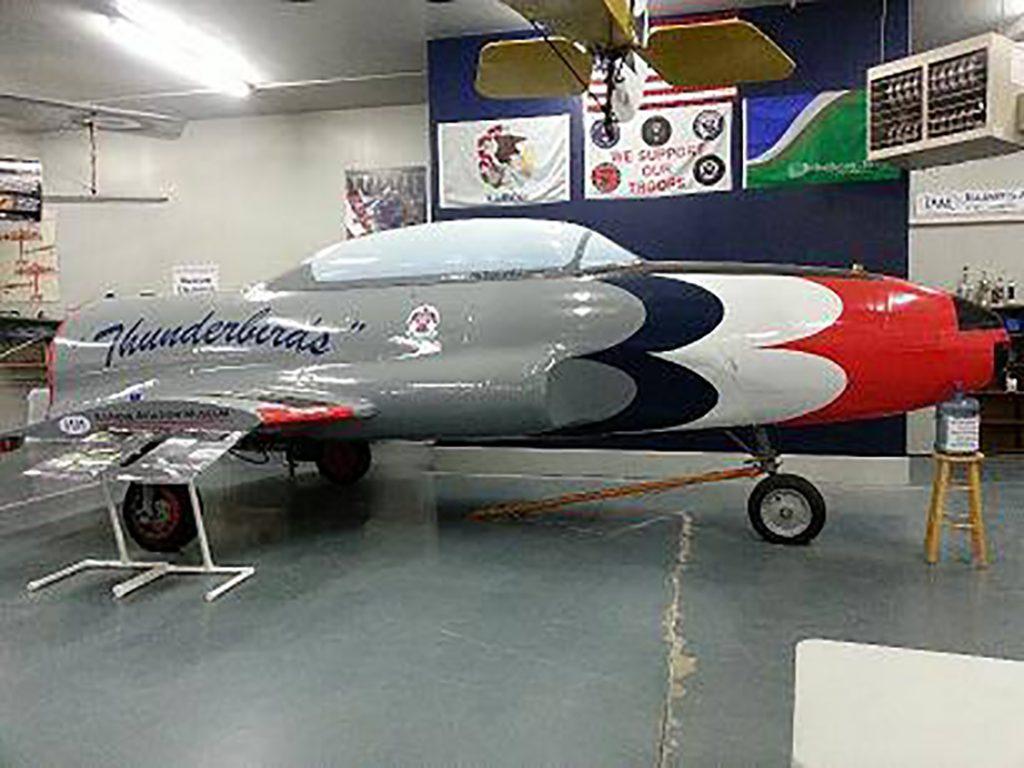 We don't not have the full history of this aircraft, but we do know that somewhere along its life it did serve in Germany. It was decommissioned, and sent to Chanute Air Force Base in Rantoul, Il and cut up as a "Training Aid" where it was used to train ejection seat mechanics to Air Force personnel. It spent quite a few years there before it wound up in front of an Army Navy Surplus Store in St. Charles IL. From there it was relocated to a hill on a farm owned by a little old lady in East Peoria, IL. The fuselage was in bad shape when it was donated to the Illinois Aviation Museum, in Bolingbrook, IL. There it was cleaned up and given the colors of the Air Force Thunderbirds. Special effects were added such as working strobe lights, a sound system and CO2 smoke exhaust. It is currently being used to promote the museum in local parades and at local events.
The E.III was the first type to arrive in sufficient numbers to form small specialist fighter units, Kampfeinsitzer Kommandos (KEK) in early 1916. Previously, Eindeckers had been allocated singly, just as the E.I and E.II had been, to the front-line Feldflieger Abteilungen that carried out reconnaissance duties. On 10 August 1916, the first German Jagdstaffeln (single-seat fighter squadrons) were formed, initially equipped with various early fighter types, including a few E.IIIs, which were by then outmoded and being replaced by more modern fighters. Standardisation in the Jagdstaffeln (and any real success) had to wait for the availability in numbers of the Albatros D.I and Albatros D.II in early 1917. Turkish E.IIIs were based at Beersheba in Palestine while others operated in Mesopotamia during the Siege of Kut-al-Amara
Nieuport 11
(On loan from Dan Christine)
The Lafayette Escadrille – Early in World War 1, various Americans, sympathetic to the Allied cause, offered their services to France as ambulance drivers, while some of their countrymen fought in these trenches as members of the French Foreign Legion.  A handful of these men successfully transferred to the French Aviation Service at the end of 1915, where they were joined by several Americans who enlisted as civilians.  They flew their first mission on May 13, 1916.  This Niewport 11 "Bebe" (French for "Baby") was typical of the Lafayette Escadrille of 1916.  The Indian head emblem on the fuselage was chosen by the American pilots for their "trademark" after finding it on a box of American Savage Arms Ammunition.
This Nieuport 12 replica represents one of many N-12's that served in the Middle East, primarily the regions within and surrounding Palestine.  The pilot and observer would have been given order to find enemy camel caravans carrying war materials and supplies to enemy troops of the Central Powers, hence the camels painted on the side of the fuselage.  The pilot and observer were given credit for the observation and location of the caravan.  The Nieuport 12 (N-12) was constructed in 1915 to serve primarily as an observation platform to perform reconnaissance over the European Western Front.  But many Allied N-12s served in other parts of the world during World War I.
The Jungster II is a homebuilt aircraft. Designed by Rim Kaminskas, it first flew in March 1966. The Jungster II was based on the previous Jungster I biplane design, which itself was a scaled down version of the Bücker Bü 133 biplane. Plans were distributed by K&S aircraft supply. The aircraft is a single-seat, open cockpit, strut-braced, parasol wing design with conventional landing gear. The airframe can accommodate engines ranging from 85 to 180 hp (63 to 134 kW). The fuselage is constructed of welded steel tubing with aircraft fabric covering. The wing has a slight rearward sweep.
(On loan from First Division Museum -Cantigny)
A loan to the 1st Division Museum at Cantigny from the US Army, the originally UH-1C gunship was converted to a UH-1M.
(The biggest essential difference with the M is a larger engine.) It Was restored to a C model gunship to tell the story of Garry Young's helicopter. Garry was a member of A Company, 1st Aviation Battalion, which was organic to the 1ID. This helicopter was restored to static display; it cannot fly. The helicopter had a crew of 4, with 2 pilots (pilot, co-pilot) and 2 gunners (one of the gunners was known as a crew chief). Hueys were iconic in the Vietnam War. It was the first war with widespread helicopter usage. The flexibility and speed of the helicopter changed the way war was waged in allowing commanders to place combat troops at almost any point on the battlefield, engage the enemy and quickly extract their troops once the enemy had been destroyed.
The Pacific D-8 is an American, single-seat, high-wing glider, that was designed by Ken Coward and made available as plans for amateur construction.
The D-8 was conceived by Coward as an easy-to-build and inexpensive all-aluminium glider with good performance, that could be flown with or without a canopy. Later flight testing of a completed D-8 showed that the hoped-for performance was not achieved as the glide ratio was measured at just 17:1 with no canopy fitted. Coward designed the D-8 and sold plans, but never built a prototype. The first D-8 was built by Klaus Hill and Bruno Hauffe who purchased plans in 1963. Virl Kimber made the first flight of the aircraft in May 1964. Early aircraft built showed that the ailerons and rudder were too small and that the wing was set at too high an angle of incidence for safety and most were subsequently modified. The plans were changed to incorporate larger ailerons. The all-metal wing is a one piece unit 32 ft (9.8 m) in span and 125 lb (57 kg) in weight, that proved a challenge to design a trailer to carry.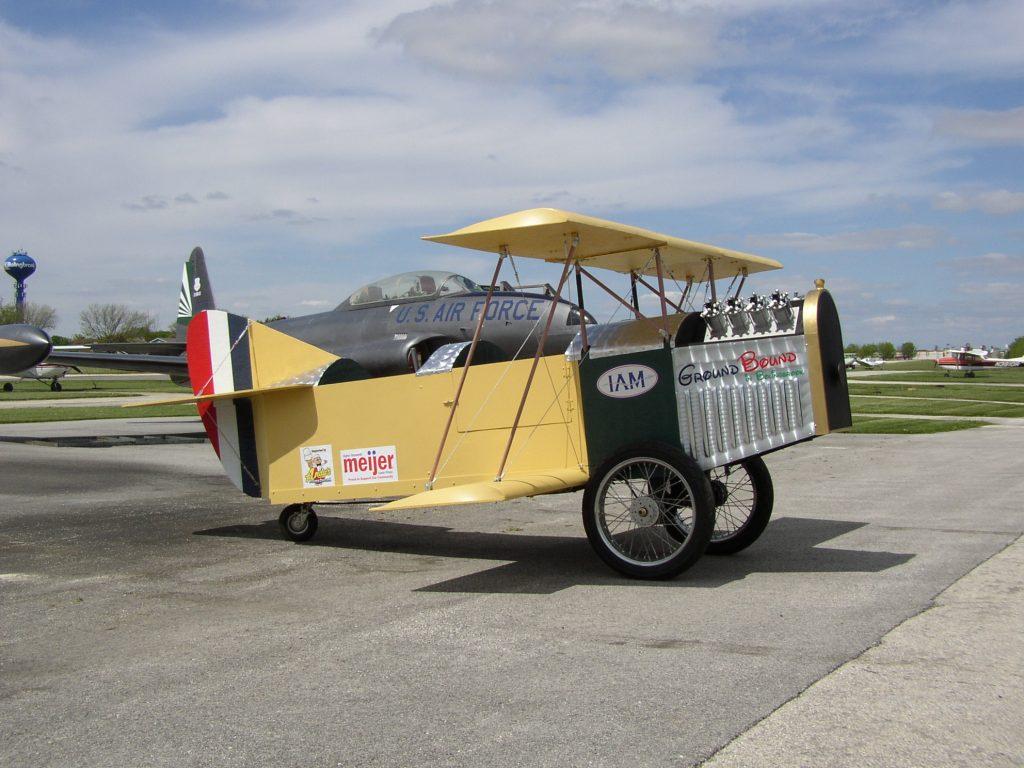 GROUND BOUND is our version of a 1917 Curtiss JN-4D "Jenny"
It's sole intended purpose is for the enjoyment of children (of all ages!) It is self powered and was based on a riding lawn mower.  It was built by volunteers of the Illinois Aviation museum and was made possible by many sponsors and donations including Meijer Foods.
Our "Helo Wagon" is stripped down Bell 222. It is an American twin-engine light helicopter built by Bell Helicopter. A cosmetically modified version of the 222 was used as the titular aircraft in the American television series Airwolf. With no engines, transmissions, or blades it serves giving rides to families during the annual Cavalcade of Planes event every June.
The term Link Trainer, also known as the "Blue box" and "Pilot Trainer" is commonly used to refer to a series of flight simulators produced between the early 1930s and early 1950s by the Link Aviation Devices, Inc, founded and headed by Ed Link, based on technology he pioneered in 1929 at his family's business. During World War II, they were used as a key pilot training aid by almost every combatant nation. The original Link Trainer was created in 1929 out of the need for a safe way to teach new pilots how to fly by instruments. Ed Link used his knowledge of pumps, valves and bellows gained at his father's Link Piano and Organ Company to create a flight simulator that responded to the pilot's controls and gave an accurate reading on the included instruments. More than 500,000 US pilots were trained on Link simulators.