How You Can Help: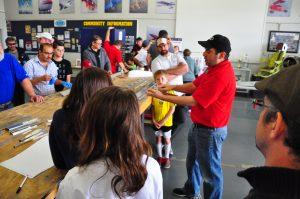 Day-to-day operating funds and supporting services come from individual donors, local businesses, and organized fundraising events and programs.
How can you help? Get involved!
Become a member.
Volunteer.
Participate in our programs.
Make a donation.
Be a sponsor.
Become a part of what helps make Bolingbrook a vital, vibrant community.
We invite all those who have an interest in aviation, education, or community service to explore what we have to offer at the Illinois Aviation Museum at Bolingbrook's Clow International Airport. There are many opportunities to volunteer, programs to participate in, and ways to support this exciting new venture!
We ask for your generous financial support and welcome your involvement as we work to make this organization grow.
If you wish to volunteer, please view and submit the following form.
Volunteer Interest Form