"Young Eagles gives kids a view of the world they've never seen before."


–
Harrison
Ford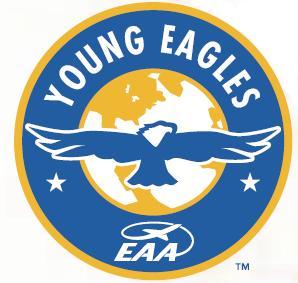 The Young Eagles program was launched in 1992 by the EAA in Oshkosh, Wisconsin. Its mission is to provide flight experience ― free of charge ― in a general aviation aircraft for young people (primarily between ages 8-17).
Young Eagle flights have been conducted in every state in America, each province in Canada, and in more than 90 other countries. The flights have also been safely conducted in nearly every type of general aviation aircraft, from light planes to corporate jets and everything in between. Your child can join the ranks of Young Eagles and see their world from a whole new perspective.
Actor Harrison Ford, a licensed pilot since 1996, is a former chairman of the EAA. "Young Eagles gives kids a view of the world they've never seen before," Ford said. "Each Young Eagle flight is an opportunity to excite kids by sharing a passion for flight and to show them that they, too, can learn the skills to participate in aviation."
Our local EAA Chapter 461, located at CLOW airport, is a part of the Young Eagles Program. Kids ages
8 – 17 have the opportunity to fly for FREE with a group of volunteer pilots and ground crew.
Flights start at 9:00 am and fly until 12:00 pm on the second Saturday of each month, April through October (weather permitting).
Registration opens each Wednesday before the Saturday event, and the link to sign-up is found on their website here. Hurry, slots go fast! A parent (or guardian) must be present to sign registration forms. Toward the bottom of the page are some links to additional information and a link to contact their Young Eagle Coordinator.